Shoira Sodiqova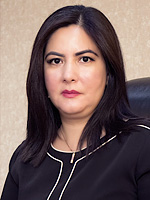 Shoira Sodiqova
CEO of Closed Joint Stock Company, commercial bank "Arvand", Tajikistan
Mrs. Sodiqova was working in Microloan Fund "MicroInvest" since inception in 2003; in 2008 MicroInvest in partnership with MLC "Frontiers" LLC, has created Microloan Deposit-taking Organization "Arvand". In 2014 two investors Triodos Invesment Management and Incofin have made equity investment in Arvand ensuring further growth and development. In September of 2019 as a result of the merger of third largest MFI in the country - MDO "Arvand" and the commercial bank possessing the European recognized standards – CJSC "AccessBank Tajikistan", Closed Joint Stock Company, commercial bank "Arvand" was created and obtained its license from National Bank of Tajikistan. Bank "Arvand" has about 950 employees, 70 offices in the country. Based on size of assets bank "Arvand" is 4th largest bank in the country, adhering socially responsible finance and leader for innovations.
Mrs. Sodiqova has 20 years of experience in microfinance and over 17 years of being top manager of fast growing MFI. During the years of MicroInvest management, organization has doubled its portfolio each year and became second largest MFI in the country. Prior to this work she has worked in International Organization on various development projects. She started her career in NGO "Saodat" that implemented project "Oyanda" dedicated to in-kind lending.
Mrs. Sodiqova has degree in Economics and Management from Technological University of Tajikistan and has studied in University of Minnesota in USA for one-year business administration certificate, MBA from Moscow Business School. Over last 20 years she has various microfinance training certificates. In February 2012 obtained "Certified Microfinance Expert" from Frankfurt School of Finance and Management. In process of obtaining "Certified Digital Finance Practitioner" certificate from Digital Frontiers Institute.